Lucio Costa
Professor, UW Department of Environmental & Occupational Health
Proudest achievements:
Research he led with others on PBDEs (flame-retardant chemicals) that may act as developmental neurotoxicants, and his work on two enzymes known as paraoxonases (PON1 and PON2) that possess antioxidant properties and may protect against some health conditions and pesticide toxicity.
Joined DEOHS faculty:
1983
"At the University of Washington, there is a good collaborative spirit … I enjoyed the feeling of knowing that, no matter what my scientific question was, I would find somebody with the expertise to help me out."
- Lucio Costa
It was raining like crazy in November 1983 when Lucio Costa first arrived in Seattle as a brand-new assistant professor at the University of Washington.
Costa was staying in a University District hotel temporarily and forgot his umbrella in the hotel's entry as he stepped outside to explore the campus. By the time he turned around to get it, the umbrella was gone.
"So, this is how the Seattle adventure starts!'" Costa recalled thinking to himself.
Despite his soggy start, Costa, an Italian-trained neurotoxicologist, had found his academic home in the UW Department of Environmental & Occupational Health Sciences (DEOHS).
Costa would go on to a 39-year career in DEOHS studying the effects of chemicals on the brain and nervous system.
This month, Costa is retiring as a DEOHS professor and former head of the department's toxicology program for a decade.
DEOHS Chair Michael Yost called Costa one of the department's most successful faculty members in securing sustained grant funding for his research.
"He has contributed novel research methods and impactful publications to the field of toxicology," Yost said. "His work on neurotoxicity, particularly PBDEs, pesticide toxicity and paraoxonases, has created an important legacy that will impact our field for years to come. It has been a privilege to work with him."
A research career by the numbers
Costa's 75-page CV traces the arc of Costa's career:
Co-author on more than 320 published research papers, 134 book chapters and 27 books.
Adviser or preceptor for 47 PhD students, 24 postdoctoral scholars, 42 master's students and 20 undergraduate students.
Editor or associate editor on 10 academic journals.
Chair or member of 86 national and international panels and committees.
Costa enjoyed studying Greek, Latin and the humanities in high school but was drawn to science once he arrived at the University of Milan as an undergraduate, particularly biomedical science and pharmacology. He graduated with a doctorate in pharmacology.
One of his professors got him interested in toxicology, and in 1980, Costa became a postdoctoral fellow in the toxicology division of the University of Texas Medical School in Houston, in the laboratory of a well-respected pesticide toxicologist, Sheldon Murphy.
In 1983, Murphy was recruited by Dr. Gilbert Omenn, dean of the UW School of Public Health, to become the new DEOHS chair, and Murphy invited Costa to join him as a research assistant professor.
Studying how chemicals affect the brain
Over the next two decades, the department's toxicology program grew substantially as faculty members landed large grants from the National Institutes of Health and other funders for new research centers such as the UW Center for Exposures, Diseases, Genomics and Environment and the UW Superfund Research Program.
Costa initially focused his research on the effects of pesticides on the nervous system. DEOHS toxicologists started to zero in on novel aspects of gene-environment interactions under the leadership of Omenn and Dr. Arno Motulsky, with funding from the Dana Foundation.
This work led to long-time collaborations with DEOHS Adjunct Professor Clem Furlong, Assistant Professor Judit Marsillach and Clinical Assistant Professor Toby Cole studying a group of enzymes in the paraoxonase family known as PON1 and PON2, which protect against oxidative stress and some neurological and cardiovascular conditions.
"Lucio is an outstanding neurotoxicologist," Marsillach said. "I am always amazed at his ability to get to everything on his to-do list while still making time to meet and discuss a research idea or review a manuscript or grant proposal. I am indebted to Lucio for his support and mentorship."
Over time, Costa developed a research lab focused on the cellular, biochemical and molecular mechanisms involved in neurotoxicity, as well as behavioral testing, imaging techniques and transgenic animal models.
His research included work on Parkinson's disease biomarkers; the developmental neurotoxicity of alcohol related to fetal alcohol syndrome; and the neurotoxic effects of manganese, lead, mercury and the marine toxin domoic acid.
Investigating links between autism, ADHD, cancer and chemical exposures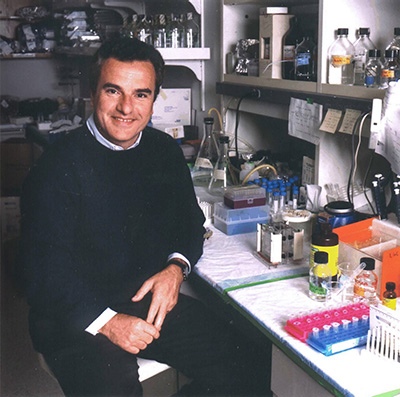 Costa also was awarded research grants to study polybrominated diphenyl ethers (PBDEs), chemicals used as fire retardants in a wide array of consumer products. In animal models, Costa examined their role as neurotoxicants associated with decreasing IQ and increasing attention deficit/hyperactivity disorder in children.
With funding from the US EPA, Costa went to China in 1991 with collaborators Carl Calleman and Emma Bergmark to study the worker population in an industrial city. They ultimately developed a biomarker to measure exposure to acrylamide, a chemical used to make polymers for the production of paper, dyes and plastics, and in water and sewage treatment. Acrylamide is a neurotoxicant, and exposure may increase the risk for several kinds of cancers.
More recently, Costa developed an interest in studying traffic-related air pollution and its effects on the nervous system.
Costa and his research team used the department's Northlake Diesel Exposure Lab, exposing mice to diesel exhaust during early development. They discovered that the mice developed behavioral symptoms similar to autism that affected their social interactions and determined that high levels of developmental exposure to diesel exhaust, especially in male mice, led to neuroinflammation and biochemical changes in the brain.
Costa is active in the Society of Toxicology, serving for a time as president of the Neurotoxicology Special Section and of the Pacific Northwest Association of Toxicologists. He also was a founder and president of the International Neurotoxicology Association.
The UW's 'collaborative spirit'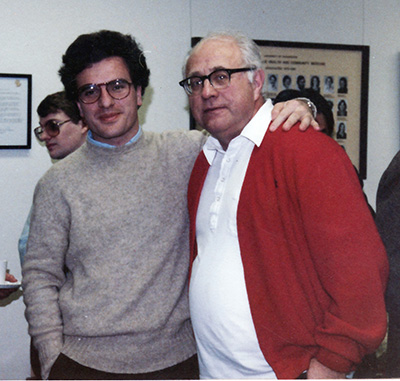 In retirement, Costa plans to spend more time traveling and indulging his interest in the humanities, reading books of all kinds rather than science papers. He will continue to split his time between the US and Italy, where his family lives.
"I always found that at the University of Washington, there is a good collaborative spirit," Costa said. "I always got along very well with my colleagues across campus, and I enjoyed the feeling of knowing that, no matter what my scientific question was, I would find somebody with the expertise to help me out."