How did Esther Min, a graduate student in the UW Department of Environmental and Occupational Health Sciences (DEOHS), end up at a six-hour-long dinner in Kyrgyzstan?
Min traveled to the country's capital in February to speak about the Washington Environmental Health Disparities map at a meeting of the Open Society Foundations, an international grant-making network founded by philanthropist George Soros.
The map is a publicly accessible, online mapping tool that compares communities across Washington state based on various measures related to environmental health.
Min helped develop the tool under the supervision of DEOHS Associate Professor Edmund Seto, a member of the Interdisciplinary Center for Exposures, Diseases, Genomics and Environment (EDGE).
She was invited to present by a U.S. State Department fellow and Kyrgyzstan native who visited DEOHS on a summer tour hosted by EDGE.
Leaving no one behind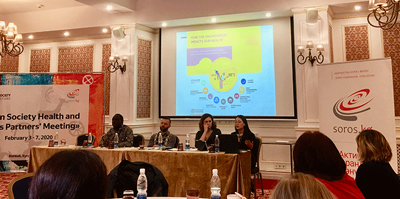 Min's presentation focused on using digital power to identify vulnerability.
"We need to know which people are already bearing the burden of climate change to make sure they're included in work to develop adaptation or mitigation strategies," she said. "We don't want to leave anyone behind."
The map shows what can be done when academics work together with government and community, Min emphasized. "This is an example of what we could do as a group in two to three years with no funding."
Philanthropy for environmental justice
The internal meeting for Open Society Foundations program health directors drew people from all over the world, including the U.S., South Africa and Armenia.
Min said the best part of the meeting was connecting with other public health practitioners who are thinking about people impacted by social injustice.
"It's great seeing a foundation incorporate environmental justice into their programmatic work," she said. "Philanthropic work can fill in the gaps in what governments do."
Sharing research and culture
While in Kyrgyzstan, Min also presented at the American University of Central Asia, which the Soros Foundation helped found. There she spoke to students, faculty, nonprofit groups and community members about climate change and environmental health.
She described the Home Air and Agriculture Pediatric Intervention Trial (HAPI) project as an example of a community-academic partnership in which research is shared openly. Min works on the project with DEOHS Professor and EDGE member Catherine Karr.
Min praised the warmth and hospitality of her Kyrgyz hosts. "They kept us really well fed," she said. "One night we had dinner from 5 to 11 p.m."
During the dinner, the Kyrgyz hosts shared traditional culture, dances and music. "It made me think about what we could ever share at the same level in the U.S.," she said.