In mid-October, UW PhD student Amber Khan took a hike up Mt. Si that was different from the treks she usually goes on with her husky.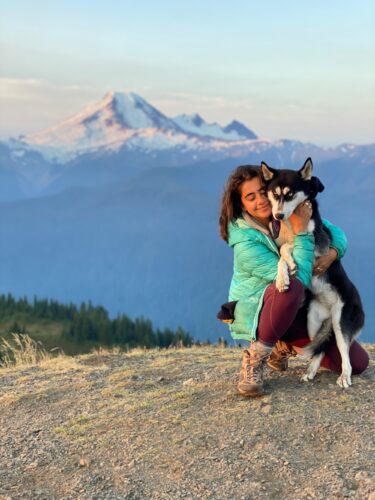 That day, she was surrounded by more than a dozen graduate students and alumni, all people of color. The hikers are part of a group Khan started at UW last year, UW POC Outdoors, which aims to diversify the outdoors and build community among fellow graduate students who are Black, Indigenous and people of color (BIPOC) through hiking, backpacking and other outdoor recreation training.
"Academia is isolating as a BIPOC graduate student and trying to break into the super-white space of getting into the mountains is super intimidating as BIPOC, so those two commonalities make this group special for BIPOC grad students," Khan said.
Breaking barriers to mountaineering
Khan has been an avid lover of the outdoors for years. As a PhD student in the Department of Environmental & Occupational Health Sciences (DEOHS), the environment is both something she studies for work and a place where she de-stresses and finds peace.
But she's found that, like academia, the outdoor recreational scene is a predominantly white space. A US National Parks survey found that visitors to the parks are mostly white, with people of color making up only 20 percent of visitors.
Khan sees the barriers her fellow BIPOC peers face when it comes to exploring the outdoors. Some of the challenges include the cost of gear, transportation to hiking trails, feeling unsafe, lack of mentors who are people of color and lack of time as a result of working multiple jobs.
Khan herself was introduced to recreating outside in high school when one of her friends, who is white, invited her on camping and backpacking trips with her family in the Bay Area. The two are still friends and are both doctoral students at UW.
Since then, Khan has spent hours teaching herself the basics of hiking, backpacking and mountaineering and carefully choosing equipment and routes. All the while, she has been looking for a community of fellow people of color to join her.
She even found her own mentor through a climbers-of-color group that supports her ambition to climb and mountaineer. Mountaineering requires advanced training, technical skills and expensive equipment, making mentorship a valuable part of the journey.
"It's cool to find other women of color who are like, 'Yeah, this is my hobby, too; it's very niche, I'm surrounded by white men, but I want to climb big peaks someday.'"
The spark to start a new group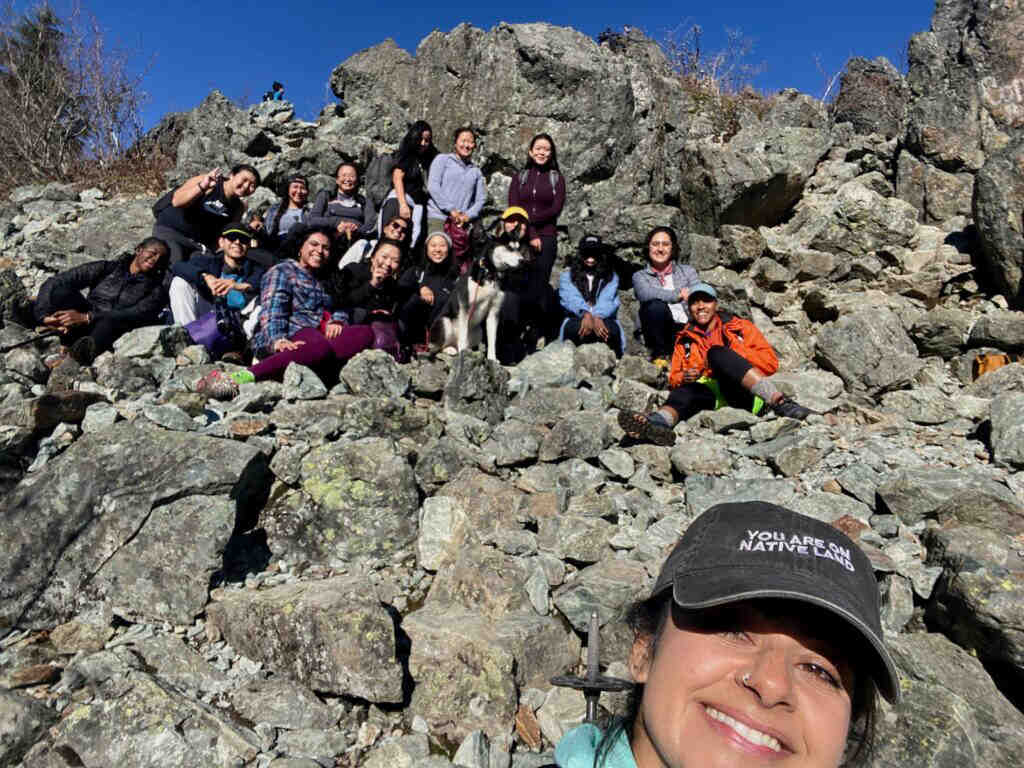 After learning that UW didn't have an affinity group for graduate students of color participating in outdoor activities, Khan started her own.
The first meetup at a brewery was supposed to happen in March 2020, the week COVID-19 closed schools in Washington state.
Since then, Khan has been leading socially distanced training sessions with small groups in Gas Works Park on topics like how to prepare a pack for overnight backpacking and the basics of mountaineering. She's also called for gear donations to support people who need outdoor equipment.
"I think the more we give opportunities and lower the barriers, the more this traditionally white space will change," Khan said.
Join UW POC Outdoors
To learn more, follow along on Instagram or email Amber Khan at akhan92@uw.edu for more information about how to participate.
Delving into disasters
When she's not backpacking or mountaineering, Khan is researching a more stressful, yet important, side of the outdoors: disasters.
There are four stages of managing disasters: mitigation, planning, response and recovery. Khan studies the last stage. Recovery is one of the least emphasized stages when it comes to research, funding and policy.
While recovery is difficult to study, its social, health and economic impacts are widely felt. Disasters like Hurricane Katrina leave many survivors unhoused for years afterward.
Although climate change will cause population displacement, Khan is finding there aren't a lot of contingency plans in the United States for how to handle this.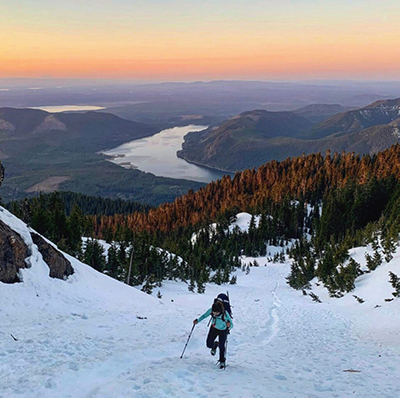 "I was thinking about what aspects of recovery are most interesting and crucial to public health, and I got into housing," Khan said. "Housing is a human right, and there's so little work being done on housing recovery."
Getting ready for the Big One
Khan's work is especially applicable to the Pacific Northwest, which is preparing for a possible magnitude-9.0 earthquake. In this event, Khan is already thinking about where people will be housed, the challenges of moving people around the Seattle area, the health implications and the complications should a devastating earthquake happen in winter.
In a recent first-author paper published with colleagues including her adviser, DEOHS Assistant Professor Nicole Errett, Khan shares how researchers and public health practitioners can prepare to conduct research in the event of a natural disaster.
Collecting this data will increase our knowledge about the health consequences of disasters, and hopefully improve response and recovery for future events.
"Grad school has allowed me to actually explore what I was interested in and ask questions with a really supportive committee," Khan said. "I've been able to shape it to exactly the questions I want to ask."
Read the full story here.