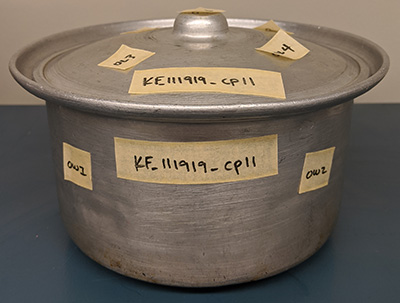 Some imported aluminum cookpots and pressure cookers used by refugee families are likely associated with elevated blood lead levels and could pose a significant risk for lead poisoning in children, according to a new study released this week.
Afghan refugee children have the highest prevalence of elevated blood lead levels compared to those from other recently arrived refugee communities, according to the Washington State Department of Health.
Children are particularly susceptible to adverse health outcomes from lead exposures, with even low levels affecting neurological development.
In-home environmental assessments by the King County Hazardous Waste Management Program (Haz Waste Program) led researchers to find a source of lead exposure that had not been identified previously: aluminum cookpots and pressure cookers brought from Afghanistan by resettled families or purchased in the United States.
The lead cookpot study was published in the Journal of Exposure Science and Environmental Epidemiology. The research was a collaboration between the Haz Waste Program and the UW Department of Environmental & Occupational Health Sciences (DEOHS).
"We will continue to work with agencies at the local, state and federal levels to further understand and prevent impacts of lead exposure to help protect children's health and improve health equity. This work is part of our commitment to anti-racism and human health," said Steve Whittaker, DEOHS affiliate associate professor and research services program manager with the King County Haz Waste Program.
Many of the tested aluminum cookpots released enough lead under simulated cooking and storage conditions to present a significant health risk, researchers said.
Refugee families bring cookware from their home countries, where there may be no regulations on the materials used, and lead and other heavy metals leach into the food they cook, said Yoni Rodriguez, a DEOHS MS student and study co-author who interned with the King County Haz Waste Program.
"You have to realize that (families) just left everything that they had to come here, and this may be all they have left," Rodriguez said.
The investigation also revealed that other US residents are also at risk of poisoning by lead and other toxic metals from some imported aluminum cookpots.
Researchers identified several solutions, including switching to safer alternatives like stainless steel, purchasing certified aluminum cookware and adopting safer cooking and storage practices.
Other authors include Katie Fellows, DEOHS alumna and program manager with the King County Haz Waste Program, and Shar Samy, DEOHS Environmental Health Laboratory director.