It's a fitting recognition of Lianne Sheppard's dedication to research, teaching and public service that she received an endowed professorship at the UW in the same week as being tapped to chair a federal scientific committee.
Sheppard, a professor in the UW Department of Environmental & Occupational Health Sciences (DEOHS) and the Department of Biostatistics, was recently appointed to the Rohm and Haas Endowed Professorship in Public Health Sciences at UW, a five-year appointment funded by the Rohm and Haas Corporate Foundation. The award grants $50,000 per year to support faculty with expertise in the health impacts of chemical exposures.
Sheppard will also chair the Clean Air Scientific Advisory Committee at the US Environmental Protection Agency (EPA), where she will help review the EPA's work and provide scientific advice so the agency can set policy based on the Clean Air Act.
"It's one of the most influential ways I can use my professional expertise to promote public health," she said of the opportunity to chair the committee.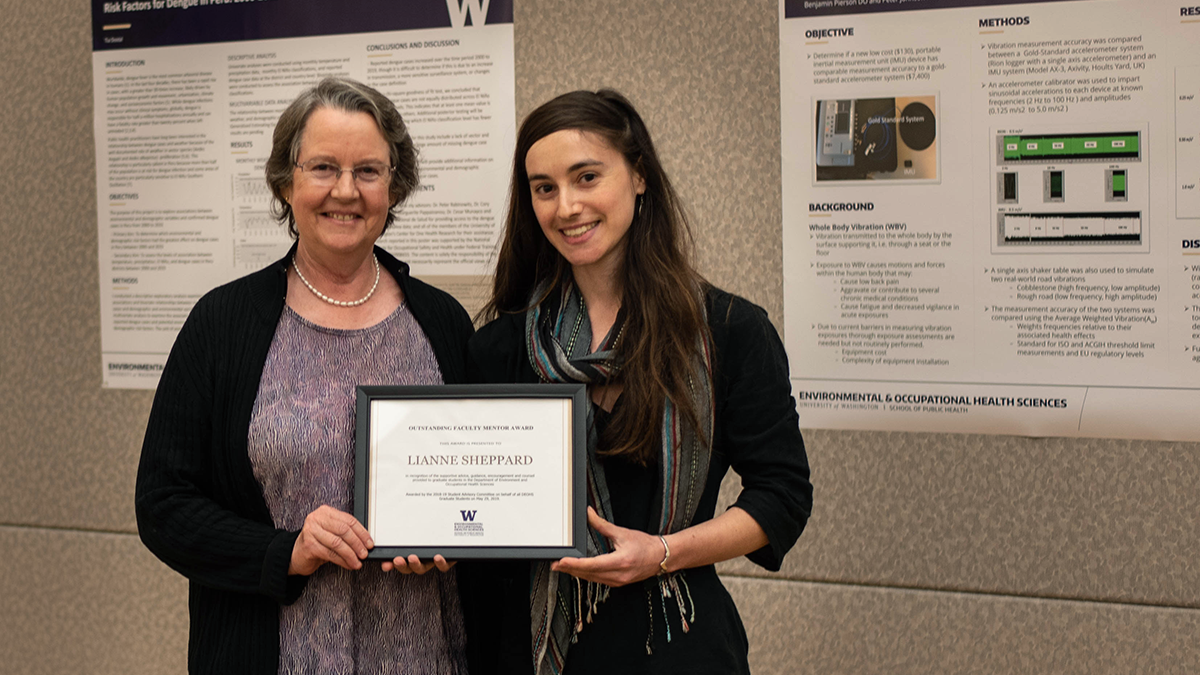 Tracing diverse chemical exposures
Sheppard probes the health effects of exposure to a wide variety of chemicals and pollutants through innovative mobile monitoring and biostatistical techniques.
One of her most striking studies showed that glyphosate, the main ingredient in the weed killer Roundup, is associated with a 41% increase in the risk of non-Hodgkin lymphoma for those with the highest exposure levels.
Recently, she has investigated the links between traffic pollution and dementia as co-principal investigator on a study that included using car-mounted sensors to monitor air pollution around Seattle.
Last year, Sheppard showed that public health may have been significantly harmed by the omission of data in a 1972 Dow Chemical study of the insecticide chlorpyrifos, which led the EPA to set an erroneously high safe threshold for the toxic chemical.
For her commitment to scientific integrity, Sheppard won the Research Integrity Award from the International Society for Environmental Epidemiology last year.
Expanding pesticide exposure research
Sheppard plans to use the support from her endowed professorship, which begins on July 1, to expand her research on people's exposure to pesticides.
"I'm most interested in understanding the role of ubiquitous environmental exposures in adverse health effects," she said, noting that, like air pollution, pesticides are widespread because they are found in many foods. "This endowed professorship opens up an opportunity for me to work more in this important area."
Sheppard is also deeply committed to student research and mentorship, which garnered her the DEOHS Outstanding Faculty Mentor award in 2019.
She has helped shape the UW School of Public Health's commitment to equity, diversity and inclusion as a former co-chair of the school's Diversity Committee and a member of several other committees on diversity at UW.
A stalwart public advocate
Sheppard joins the EPA's most diverse Clean Air Scientific Advisory Committee since its establishment: it comprises five women and two men, three of whom are people of color.
The new committee "will provide credible, independent expertise to EPA's reviews of air quality standards that is grounded in scientific evidence," EPA Administrator Michael S. Regan said in a statement.
Sheppard previously served on the Clean Air Scientific Advisory Committee from 2015 to 2018, and has also served on many EPA panels, most recently one focused on asbestos as part of the Toxic Substances Control Act Science Advisory Committee on Chemicals.