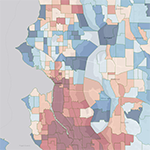 It was at the height of California's worst drought on record that Esther Min saw for herself the power of data to help low-income families.
"People's water bills were skyrocketing, wells were drying up, families were driving miles away to buy bottled water," said Min, who was working on a water-access study in the Salinas Valley in 2014.
"I saw how we could partner with communities to gather data they could use to get the attention of policymakers," said Min, now a PhD student in the UW Department of Environmental & Occupational Health Sciences (DEOHS).